Anniversary is a day of celebration of togetherness and love among a couple who have stood beside each other in difficult times. It is a special moment which signifies that your love is stronger than the numerous troubles and obstacles in your way. No doubt, you both had your share your problems but your rock steady relationship sailed across everything and emerged victorious in the end. If you want to convey special thanks to your loving partner, check out these amazing exclusive anniversary gift hampers from Giftacrossindia.com.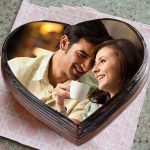 Heart Shape Chocolate Photo Cake – Whether you are celebrating a first or 25th anniversary, it is important to pamper your beloved partner in an extraordinary manner. Order a delicious heart shape chocolate cake that consists of a lovely photo of your partner or a couple pictures as an anniversary special cake. It will be a fantastic cake choice for your anniversary and partner who will love it instantly without any doubt.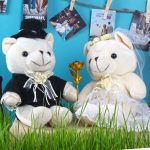 Wedding Couple Bear and Gold Plated Rose – Looking for a cute and exclusive anniversary hamper for your partner on the big day? Why not go for an amazing anniversary hamper consisting of a wedding couple bear and gold plated rose for a perfect celebration? This wonderful anniversary hamper is surely going to make an everlasting impact on your adorable partner without any doubt.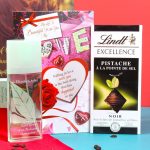 Love Card and Perfume – Want to convey your heartfelt emotions in an extraordinary manner? Order this lovely combo of love card and perfume as a special anniversary hamper to make a strong impact on your adorable partner. You can also add a customized message on this love card to get the maximum attention of your partner.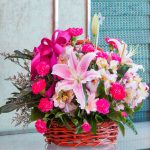 Exotic Flowers Arrangement – Fresh Flowers are known for their superb beauty, charm and fragrance which make them an ideal gift choice for any special occasion. To express best wishes on the anniversary celebration in a wonderful manner, send an exotic flowers arrangement for your partner from a nearby florist shop or online store. You can further pair this lovely floral basket arrangement with a cute teddy bear soft toy, a box of chocolates and other such items.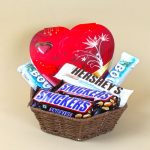 Hershey's Chocolate Hamper – Is your partner smitten by the irresistible taste of a Hershey's chocolate? It is time to take the madness to another level with this mouth-watering Hershey's chocolate hamper that can leave your partner asking for more.
Love Trio Photos Frame – If you want to preserve the sweet memories with your partner for a lifetime, order this unique love trio photos frame as a special anniversary gift. With a unique design and appeal, this extraordinary photo frame will certainly make your special moments truly unforgettable so that they can be cherished forever.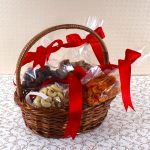 Assorted Cashews Basket – Healthy is an important aspect to live a happy and blissful life with your partner. If you want to send a gift of good health to your loving partner, send assorted cashews basket instantly. These gift boxes will a special healthy treat to convey the unsaid emotions for your beloved partner on the anniversary day.
So, make the most of your anniversary celebration with these exclusive gift hampers that come with the highest quality standards on an affordable price. It is time to go for a mega anniversary celebration with your loving partner by exploring these gift ideas.