There is only one occasion that can convey the warmth, love and mutual admiration between siblings in an extra ordinary manner. That unique occasion is none other than the festival of Raksha Bandhan which is celebrated among huge fanfare in different parts of India. It is an important festival which symbolizes the deep sibling love and redefines their relationship to an entirely different level. Further, there are gifts shop that can send your Rakhi gifts anywhere in India and abroad with its timely same day Rakhi gift delivery. If you want to reinvent your sibling love and relationship, check out the various Rakhi gifts for your adorable sibling.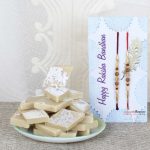 Rakhi with Traditional Indian Sweets – Every occasion needs delicious sweets to add excitement, happiness and sweetness in the lives of our dear ones. On the auspicious occasion of Raksha Bandhan, establish a strong bonding with your beloved sibling by sending him/her Rakhi with sweets to celebrate the spirit of the festival.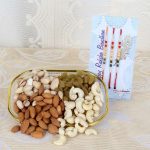 Designer Rakhi with Dry Fruits – Everybody wants their sibling to live a healthy and happy life at all times. If you want to delight your loving brother or sister on Raksha Bandhan, gift him/her a pack of designer Rakhi with dry fruits as a perfect way of celebration. This gift is a wonderful symbol of health, happiness and warmth that are going to make a strong impact on this occasion.
Rakhi Set and Chocolates – Want to give an ideal Rakhi gift for your beloved brother who has been your strength through thick and thin times? It is time to order Rakhi set and imported chocolates to add sweetness and warmth in your sibling bonding. It is definitely a unique Rakhi gift hamper containing Rakhi with Chocolates for your loving brother and is going to bring a lovely smile on his face without any doubt.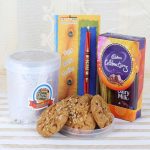 Rakhi with Cookies – Are you thinking about a suitable Rakhi gift hamper for the special occasion of Raksha Bandhan? If yes, it is time to explore this amazing gift pack of Rakhi with cookies to capture the immediate attention of your beloved brother and can convey the sibling emotions in an extraordinary manner.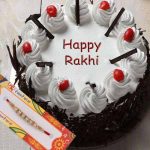 Designer Rakhi with Cakes – Cakes and festivals have a unique relationship with each other and latter is truly incomplete without the former. To ensure the memorable celebration of Raksha Bandhan, don't forget to send designer Rakhi with delicious Cakes to make your brother feel all the more special and important.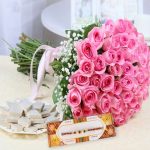 Rakhi with lovely beautiful Flowers – Cheer up your brother by sending him a lovely combo of Rakhi with flowers on the festive occasion of Raksha Bandhan. It is a perfect treat for the festival and is definitely going to make a strong impact without any doubt. Your adorable brother will surely love it and this gift will be an instant hit on the special occasion of Raksha Bandhan.
Explore these amazing Rakhi gifts online for your beloved sibling and confess your infinite love and respect for each other. You can further send these lovely Rakhi gifts to India and worldwide in countries like USA, Canada, UK, Australia, UAE and many more with our timely same day gift delivery services.