Occasions may come and go but fresh flowers are never out of the trend due to their evergreen charm. They are known for their extraordinary fragrance and beauty that make them a perfect gift choice for a number of occasions. Lovely flowers are appropriate for any gender and occasion as they convey a wide range of emotions with ease. If you want to express the best wishes to your beloved sister on any special occasion, explore these wonderful flower basket ideas for a perfect celebration.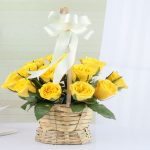 Yellow Roses in Basket – A sister is a lovely friend who keeps every secret of his brother and is always available at the time of need. She is a wonderful support system who loves his brother unconditionally and without any expectations. To express gratitude and affection towards such a sister, send her beautiful yellow roses in a basket on the occasion of Friendship Day. This will be an ideal gift for her and will capture the instant limelight.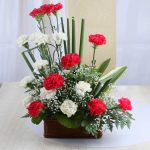 Mixed Carnations Basket – Do you have an elder sister who takes care like a mother and is engaged in your welfare at all times? She is the one who is ready to sacrifice everything for the sake of his beloved brother without asking anything in return. On the occasion of Mother's Day, it makes sense to send a lovely mixed carnations basket to convey the gratitude towards your mother like sister.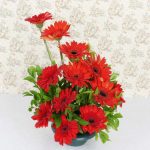 Red Gerberas Basket – Are you looking to celebrate the birthday occasion of your beloved sister in an extraordinary manner? If you are unable to choose a perfect birthday gift, why not think about charming flowers? These beautiful flowers are truly unique and can express your best wishes in an interesting manner. Order a special red gerberas basket for your loving sister and go for a memorable celebration of her birthday.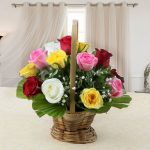 Mixed Roses Basket – You and your sister share a special bonding and love with each other. It is this emotion which makes your relationship face numerous obstacles with great ease and has come out stronger than before. As a tribute to this unbreakable bonding and mutual love, gift your sister a charming mixed roses basket that is hard to be ignored by anyone. It can effortlessly invoke a feeling of mutual love and admiration for your beloved sister and will be an extraordinary gift.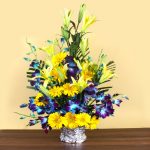 Exotic Flower Basket – Looking for a unique anniversary gift that can convey the emotions towards your sister effectively? It is time to order an exotic flower basket for her and express best wishes for her anniversary in a different manner. You can utilize beautiful flowers such as orchids, lilies, chrysanthemums and others for an exotic flower basket.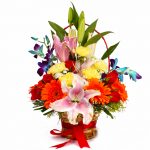 Vivid Designer Floral Basket – Are you planning a perfect wedding gift for your one and only exclusive sister? You can choose this vivid designer floral basket and can surprise your sister in a seamless manner. This gift represents beauty, grace, freshness and charm which are the common traits of your adorable sister.
So, when you don't have a clear idea about what to buy for your loving sister, choose beautiful flowers that are an ideal gift choice for everyone and in any situation. Go for these amazing flower basket ideas and make a strong impact on your loving sister.