Your parents are your biggest support and source of inspiration as they have done a lot for you. They are always standing and supporting you in difficult times. If you really feel blessed due to the presence of your beloved parents, it is time to express your infinite love on their marriage anniversary. Particularly, your mother has been your strength and has fulfilled her duties in an extraordinary manner. To make your mother feel special on the anniversary day, check out these mouth-watering cake combos for her.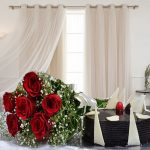 Round Chocolate cake with Red Roses Arrangement – Are you eager to express best wishes for your beloved mother in a unique manner? Why not order a perfect combo of a round chocolate cake with red roses arrangement for the anniversary occasion? This exciting gift will be definitely admired by your adorable mom and will be an instant attention seeker.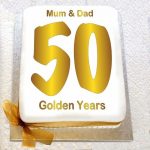 Golden Wedding Anniversary Cake – Your mother is no less than a valuable treasure and it is important to reward her with an extraordinary gift. It is time to order a delicious golden wedding anniversary cake for your loving mother and grab her immediate attention on the occasion.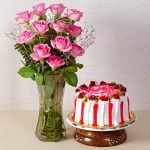 Strawberry Cake with Dozen Pink Roses in a Glass Vase – A perfect combo of cake and flowers is a fantastic way to express best wishes and gratitude towards your loving mother on the occasion of a marriage anniversary. Order a relishing Strawberry Cake with dozen pink roses in a glass vase and surprise your adorable mother in a unique way.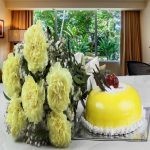 Pineapple Cake with Yellow Carnations – Want to send anniversary gifts to your one and only mother in style? Send her a fantastic combo of Pineapple Cake with yellow carnations as an ideal anniversary gift for mother and bring a long-lasting smile on her face.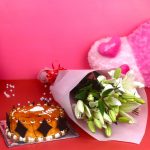 White Lilies Bouquet and Butterscotch Cake – The exotic beauty and charm of white lilies are truly unmatched and can convey the desired emotions effectively. To create a strong impact on the anniversary day celebration, buy an exclusive combo of white lilies bouquet and Butterscotch Cake for your mother on the occasion of a marriage anniversary.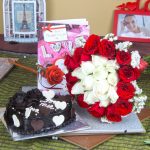 Assorted Chocolate with Heart Shaped Chocolate Cake and Love Greeting Card – Your mother is the most important person in your life and she certainly deserves an extraordinary anniversary gift. To make your mother feel special, order assorted chocolate with heart shaped cake and love anniversary greeting card to express your anniversary wishes in a memorable manner.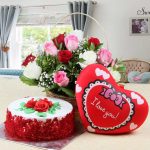 Red Velvet Cake with Rose Arrangement – The distinct taste of Red Velvet Cake along with charming roses is a superb anniversary choice for your loving mother. Capture the immediate attention of your mother with this extraordinary anniversary hampers and make her feel special without any doubt.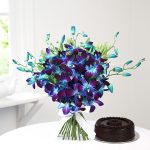 Eighteen Orchids with Chocolate Cake – Fresh Flowers are never too old and out-of-fashion no matter what the occasion may be. Beautiful orchids are known for their extraordinary beauty and elegance. Further, when these eighteen orchids with Chocolate cake are ordered, they make a wonderful anniversary gift for your adorable mother.
Explore these delicious anniversary cake combos on the auspicious occasion of marriage anniversary and spread the happiness around.