Marriage is a beautiful journey where two persons belonging to different opinions, choices and suggestions decided to stay together for the rest of their life. However, there are few people who can carry this pious relationship smoothly for years and hence deserve a special mention. If your beloved grandparents are celebrating their golden jubilee anniversary, it is time to explore these fantastic gift ideas for a grand celebration.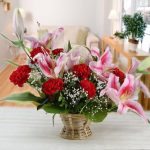 Beautiful Flowers – Want to express the best wishes on the golden jubilee marriage anniversary of your grandparents? It is time to order lovely roses bouquet, mixed orchids in a vase, hand-tied bunch of mixed gerberas and other such basket arrangements as a special anniversary gift for the vintage couple. The charming fresh flowers will certainly bring a lovely smile and can capture immediate attention without any doubt.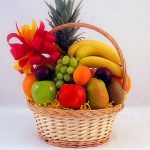 Healthy Fruit Basket – With increasing age, the health and fitness of your grandparents are facing a severe challenge. To help them live a healthy and active lifestyle, send them a gift of health with an amazing seasonal fruits basket on their golden jubilee anniversary celebration. This will be undoubtedly a special gift for your beloved grandparents and will be cherished by them for a long time.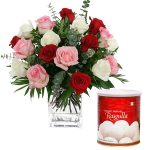 Sweets and Flower Combos – Flowers and sweets are two inseparable part of any big or small celebration. What if you can get them both in the extraordinary combo of flowers and sweets on a marriage anniversary? Send a perfect combo of mixed flowers bouquet with Gulab Jamun on the golden jubilee marriage anniversary of your grandparents. You can also try out a bouquet of roses with Rasgulla or any other Indian Sweets for a wonderful anniversary celebration.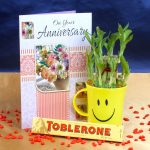 Lucky Bamboo and Greeting Card – If you are looking for something different, why not go for a superb combo of lucky bamboo and greeting card on the 50th marriage anniversary celebration of your dear ones? You can easily choose this splendid gift combo for your grandparents to express your best wishes in style. These gift items also convey congratulations, prosperity and good luck to the recipient.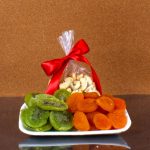 Assorted Dry Fruits – Health is a matter of priority for aged people and your adorable grandparents are no strange to this. On the occasion of their 50th marriage anniversary, send them a healthy gift hamper in the form of assorted dry fruits. You can easily buy dried Kiwi, cashew nuts, almonds, pistachios and other healthy nuts in the form of assorted dry fruits collection and make your grandparents feel special.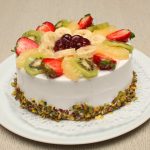 Mouth-Watering Cake – It is worth noticing that no celebration is complete without the presence of a delicious cake. So, how can you plan a memorable celebration of 50th marriage anniversary without an ideal cake? Visit your nearest bakery store or place a hassle-free online order for Mixed fruit Cake, Fresh Vanilla Cake, Black Forest Cake, Orange Chocolate Cake and other cake variants for this grand event. Offer a sweet treat to your grandparents and they will definitely love this delectable surprise.
It is a special moment of the 50th marriage anniversary celebration of your grandparents and make it a larger-than-life affair with these fantastic anniversary gifts for grandparents. So, take a quick look and order them for your loved ones instantly from Giftacrossindia.com.