Rakhi is celebrated every year on the full moon day of the Shraavana month of the Hindu Calendar and the day varies year on year. This year Rakhi falls on 22nd August 2021 (Sunday).
Rakhi or Raksha Bandhan is a very popular ceremony celebrated in India and it symbolizes the sacred bond between a brother and sister. It is a relationship that cannot be described but felt as it is an extraordinary relationship. This relationship has a dedicated day in India and is called Raksha Bandhan or Rakhi where the sister ties a talisman or an amulet which is basically a sacred thread called Rakhi on her brother's wrist whereby the brother promises to protect her always. The meaning comes from "Raksha" meaning protection and "Bandhan" means "the tie" and hence the festival is named Raksha Bandhan. In its purest sense, this festival of Rakhi in India celebrates the eternal love of brother and sister relationship which is no more limited only to blood relations. In India, this festival is celebrated between cousins, sister and sister in law, aunt and nephew and all other relations. It is also a ritual associated with Saluno in which a sister places shoots of barley behind the ear of their brother.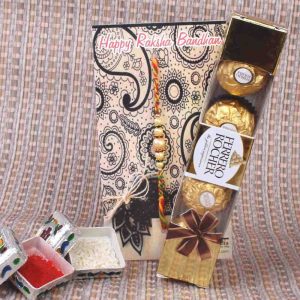 Rakhi or Raksha Bandhan is one of the important festivals of Hindus in India and also other countries like Nepal, Pakistan and Mauritius. Our mythology has a story behind this sacred festival and this is how it goes… Once there was a battle that took place between Gods and Demons. Lord Indra who was considered the deity of sky, rain and thunderstorms was fighting the battle on behalf of God and was struggling against the demon king, Bali. The war took a long time without any end. This is when Lord Indra's wife Sachi seeked the blessings of Lord Vishnu who gave her a holy thread bracelet to tie around her husband's wrist. The bracelet gave enough power to Lord Indra who defeated the demon successfully. Seeing the power of the holy thread, every woman used this thread as prayers and tied around their husband's wrist when they were going out on a war. These holy threads slowly in present times became a sacred thread between a brother and sister relationship.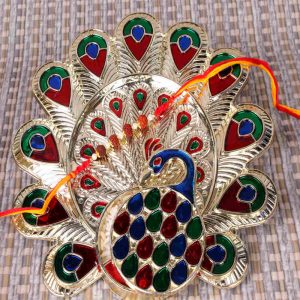 On Raksha Bandhan Day, a sister ties a rakhi on her brother's wrist and prays for his prosperity, health and well-being. In return the brother showers lots of gifts and blessings to his sister and promises to protect her from any evil in front of her.
Giftacrossindia.com helps you tighten the bond between you and your sibling. This Rakhi, shop online for the best Rakhi Gifts to sister or brother and send to India at best prices with Free Delivery anywhere in India. Choose from a wide range of Raksha Bandhan gifting ideas such as Rakhi Designs, Rakhi Personalized Gifts, Return Gifts for Sisters, Rakhi Puja Thali and send to India from any country you are in. Our strong delivery network ensures fastest delivery with Rakhi Express Delivery anywhere in India.