Raksha Bandhan is on Sunday, the 26th of August (26/8/2018) this year.
Raksha Bandhan is celebrated in Shravana month during full moon day or Purnima day. That is why it is also known as Rakhi purnima.
The name Raksha Bandhan means "the bond of protection". The festival celebrates the relationship between brothers and sisters.
If you are far from your brother on this Raksha Bandhan, then you can surprise him by sending gifts and Rakhi online. Giftacrossindia.com can help you choose a magical surprise to your adorable brother with many options.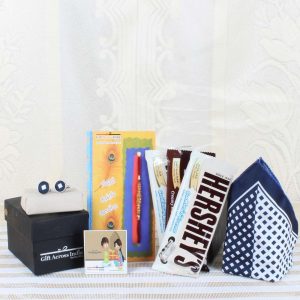 Precious Rakhi Combo for Bhai is a hamper of gift with chocolates and rakhi which consist of Polyester Navy Blue square design Tie, Cufflinks and Handkerchief in a Box, Wooden Beads Rakhi along with 3 Bars of Hersheys Chocolate of 40 gms each.
This Rakhi hamper will surely delight your brother and make him feel loved. This wonderful gift combo of rakhi and chocolates is undoubtedly the perfect selection choice if you want to impress your dear brother this festive season.
This gift will represent your admiration, love and respect and Care towards him. You will definitely appreciate the warmth and happiness that this gift combo signifies. So, what are you waiting for? Book your order now without further delay.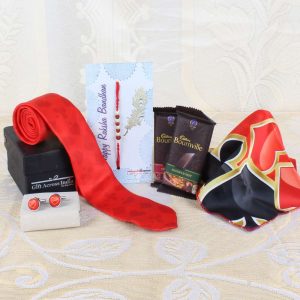 Gorgeous Rakhi Hamper for Brother is another option for this festive session. This hamper consist of Polyester Digital Poker Print Tie, Cufflinks and Handkerchief in a Box, Rudraksha Pearl Rakhi along with 2 Bars of Cadbury Bournville Chocolate of 31 gms each.
Special Rakhi Combo for Bhai Online will be one of the best choice among all the hamper. This hamper consist of Polyester Multi Shades Cufflinks and Handkerchief in a Box, Felicci Chocolate of 100 gms along with Designer Beads Rakhi.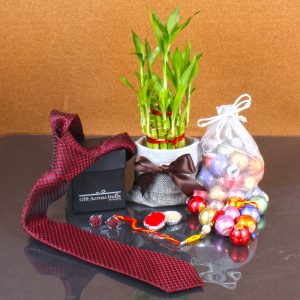 Rakhi Bhaiya Hamper from Gift Across India is another great idea to delight your brother on this special day. This hamper consist of  Ethnic Rakhi Thread, Micro Jaquard Material Red Marron color Weaved design Tie which is 2.5 inch Narrow and 58 Inch Length in Size with Self Design Fabricated Matching Combination Cufflinks Set in an Exclusive Gift Across India Box, 2 Layer Good Luck Plant in a Jute Potli Bag, Truffle Center Filled Assorted Chocolates Balls Pouch of 100 Gms and Packet of Roli Chawal for Tikka.
Roli Chawal will help you to fulfil your tradition method of Raksha bandhan Tikka. Tie Cufflinks Set will Complete this Hamper for a nice gifting to Bhai and a tasty and mouthwatering Truffle Balls Chocolate is extra special touch of this hamper. Gifting of Exquisite Good Plant will give a healthy career, healthy relationships, and many more. This Raksha Bandhan, reach out to your brother heart easily and celebrate the occasion by gifting this amazing hamper.
You can select the most suitable one for your brother in a snap from Giftacrossindia.com. Just tell us whether you will be adding a name or message to your gift and we will take care of the rest. We will help you with same day delivery.