Father's Day in India is a relatively new concept but it is celebrated in similar ways as in the United Kingdom or the United States, although on a smaller scale.
Due to the greater exposure of people to the western cultures in metropolitan cities and bigger towns, there is a greater awareness of Fathers Day events in these areas. In Mexico Father's Day is referred to as "Día del Padre", where many families get together, prepare meals and distribute gifts to fathers or father figures. In South Africa, many social and cultural societies host Father's Day celebrations to stress the important role of fathers in nurturing children and building stronger society.
Father's Day in 2018 is on Sunday, the 17th of June.
It is important for people wanting to dine in a restaurant on Father's Day to think about booking in advance because restaurants may be busier than usual, as many people take their fathers out for a treat.
Cakes are the best idea to celebrate this occasion with your dad. Order his favorite cake or give him a surprise by making it at home.
This is the best way to show your appreciation towards your father.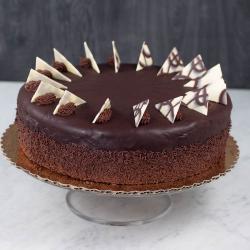 When it comes to cake, Exclusive One Kg Chocolate Cake from Giftacrossindia.com is a good idea to make your father feel loved and cherished.
Chocolate cake is a cake flavored with melted chocolate, cocoa powder, or sometimes both. Well this beautiful round shape chocolate cake which tastes amazing would be the perfect choice for this special occasion. This cake weighs 1 kgs, which makes it a perfect pick for gatherings involving large number of people. Apart from tasting delicious, the cake also looks very beautiful. The cake is topped with delicious flakes chocolate which is definitely going to be a perfect treat for chocolate lovers. Simply present this cake to your dad and bring beautiful smiles on his faces.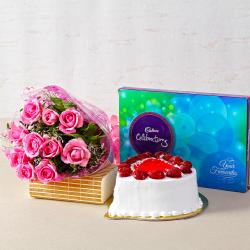 If you are looking for a hamper to delight your dad, Treat of Strawberry Cake with Pink Roses and Chocolates is the best option. This gift hamper contains a bouquet of 10 Pink Color Roses with lots of green fillers along with Cadbury Celebration Chocolate Pack (Weight: 118 Gms) and One kg Heart Shape Strawberry Cake.
Just give a look at this very different gift combo which will surely delight your dad on the special occasion.
This is gift combo are best for making anyone feel instinctive aptitude. So go ahead and book your order now. You can send Gifts anywhere in India to your near and dear ones through Giftacrossindia.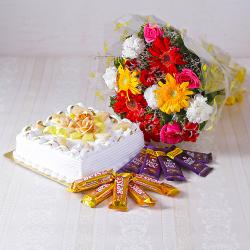 Bouquet of Mix flowers with Square Shape Pineapple Cake and Assorted Chocolates is another option to present a combination of flavor.
This hamper consists of Bunch of 15 Mix flowers along with one kg Pineapple Cake and ten Assorted Chocolates Bars.
This will be a perfect way to show your love and affection to your dad with this lovely gift hamper. This will be a tempting, sumptuous and heartwarming gift on this Father's day. Also you can also send this gift hamper along with other Gifts to anywhere in India through Giftacrossindia.com.
Giftacrossindia.com gives you the chance to buy personalized Father's Day gifts to let him know how dear you hold him