Here is the collection of Indian traditional sweets called mithais for Diwali. Start your festival celebration with Delicious Sweet. Diwali is festival of light and good food. Especially in India no Celebration or Festival complete without Sweet. Giftacrossindia Diwali treat comes with the collection of Indian traditional sweets called mithai. Start your festival celebration with our Delicious Sweet like Kaju Katli , Soan Papadi, Assorted Sweets, Dry Fruit Sweets, Laddoos and many more. You can send Fresh and Yummy Diwali Sweet anywhere in India with our strong Delivery network and fastest Logistic service over 500 Cities of India. We have brought wide range of Diwali Sweet Hamper like Diwali Sweet with Dryfruit, Diwali Sweet with Puja Thali, Diwali Sweet with Chocolate etc. We have also personalized Sweet Gift Box for corporate gifting along with Diwali Greeting Card.
Soan Papdi
No festival or celebration is finished without Sweets. The Celebration of lights is round the corner. It is an ideal opportunity to gift your dear ones with delightful sweet hamper. Diwali is the celebration of lights satisfaction and harmony. Let this Diwali acquire the most satisfaction each ones life and the light of Diya shows us better way. Gift this elite Soan Padi Gift to your adored one and wish for their effective life. Without sweets, Diwali occassion is deficient so its an Immaculate Diwali gift for Family or Relatives or for friends. Soan Papdi is flaky Indian sweet made with besan, flour, ghee, sugar. It is flavored with cardamom and rose water and garnished with toasted pistachio and almond.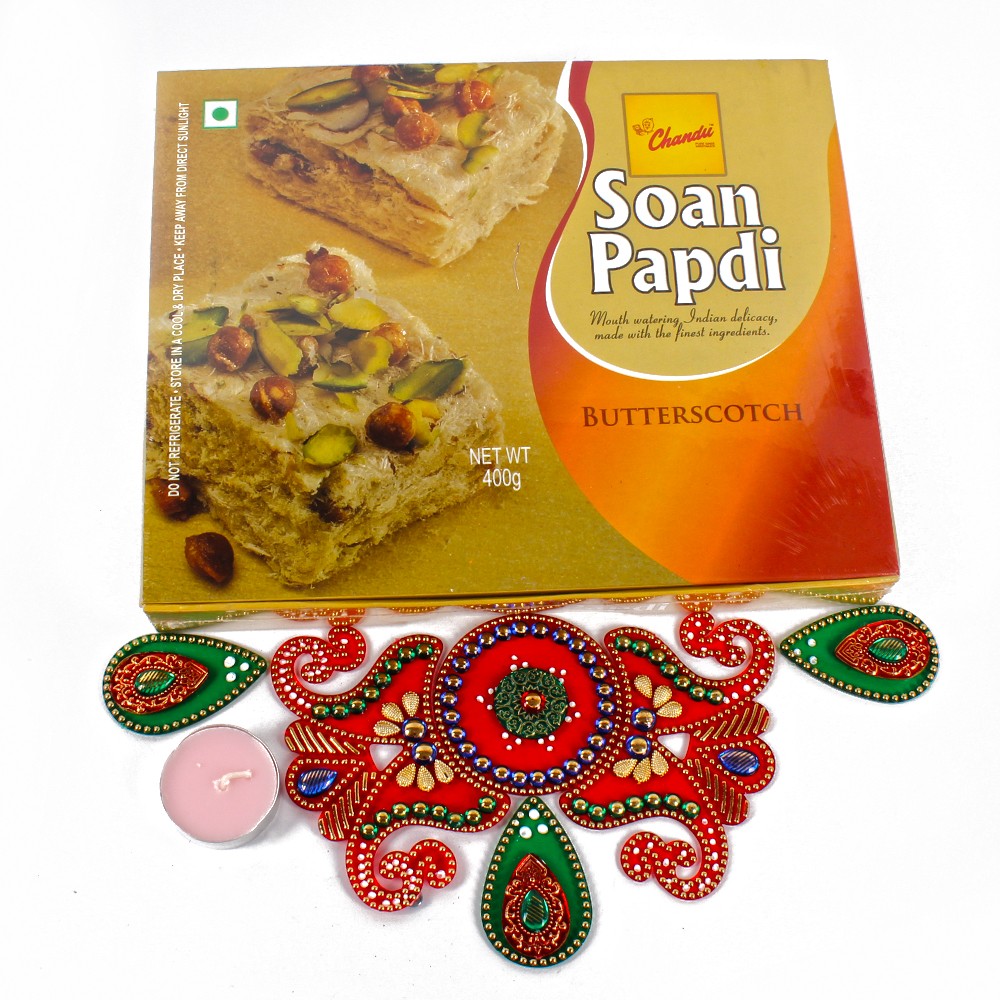 Dryfruits Sweet
Dry Fruits sweets is one of the most favored by mix dry fruits. Therefore, modern sweet makers have infused Assorted nuts with Khoya to form Delicious exotic Dryfruits sweets. Gift this Dry fruits sweets to your dear ones to make their Diwali more special. Dry fruits are very good. It contains natural sugars and fiber, zero cholesterol and fats, and a variety of delectable flavors. Dry fruits sweets are packed with essential nutrients. This is a heart touching Dry fruits sweet gift hamper that comprises of a box of super tasty assorted sweets that is nice fancy box. This hamper also includes a special Diwali greeting card that has a heart warming message inside for your loved ones. With this amazing gift combo, we are sure you will be able to express your love towards them and make their celebration memorable.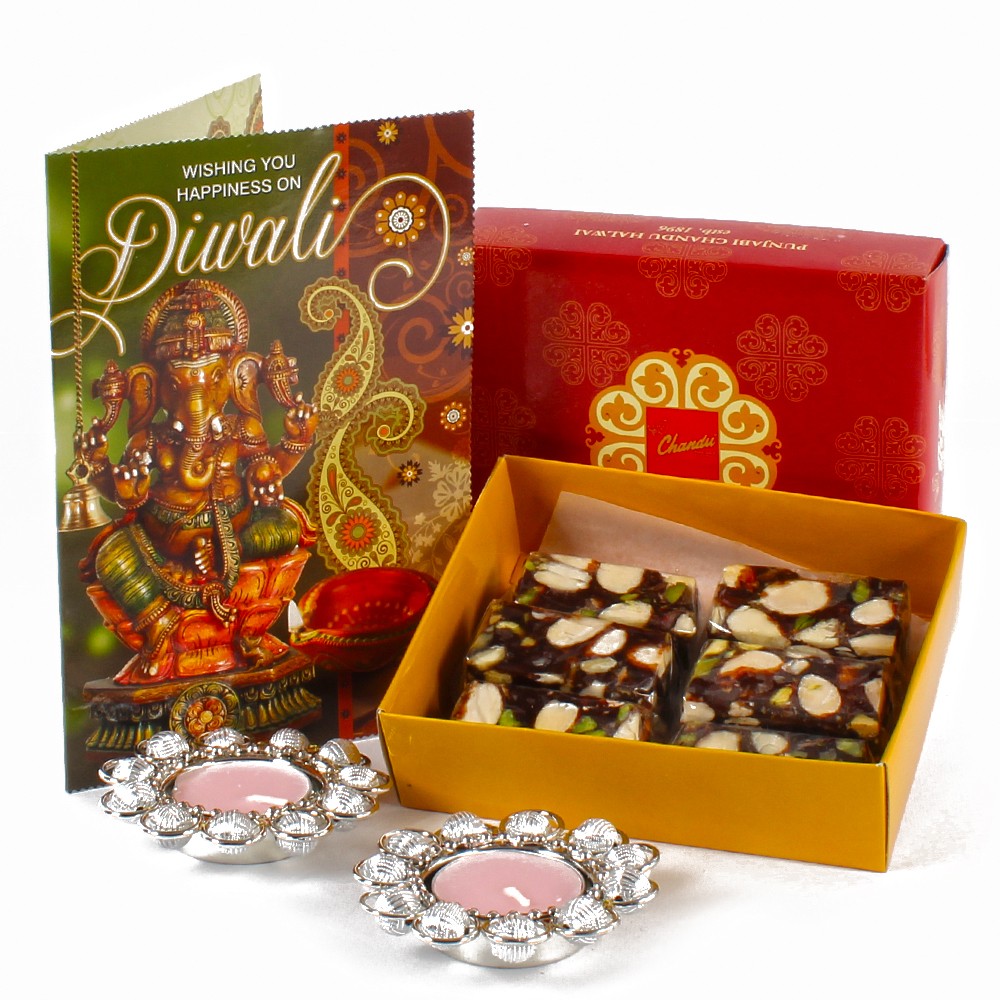 Rasgulla
Rasgulla is one of the Indian sweets that everyone loves. Sending of Diwali cards in Diwali to your dear ones is a simple and effective way of telling them their importance in our life. Rasgulla is a special sweet that you can gift your dear ones on Diwali with Diwali Cards and Diyas. Make a fabulous combo of card, flowers and Rasgulla is all set make your dear ones feel special.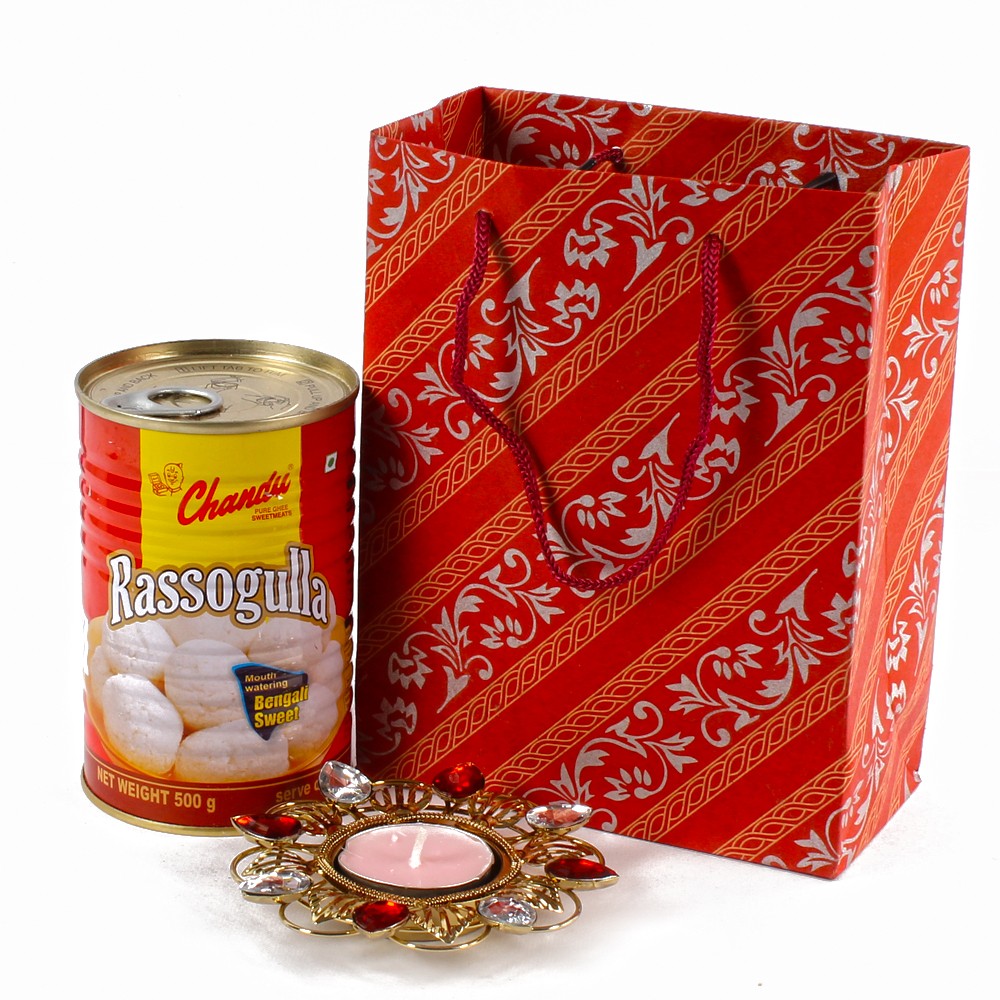 Mootichoor Ladoo
Special occasions call for special gifts like the one we have for you here. Mootichoor Ladoo is one of the best Diwali sweets to be gifted on any occasion or festival like Diwali. Bouquet of 15 Mix Flowers Like Yellow Gerberas and Pink Roses and Motichoor Ladoo that has all the sweets equally tasty and ready to melt in the mouth and assorted Firecrackers.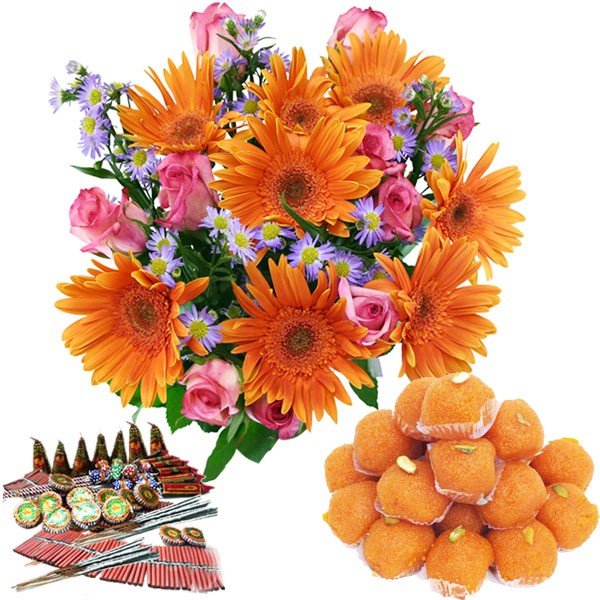 Kaju Katli
On the occasion of diwali treat your family with this amazing gift pack of Kaju Katli. Assorted dryfruits box packed with kaju katli sweet box with bouquet of colorful gerberas and pair of earthen diya are the best Diwali Gifts Hamper for this Diwali. Kaju katli sweets box and dry fruits are amazing in taste. Kaju Katli is one of the best sweets to gift on any occasion to your dear ones that will bring smiles on their face and they will enjoy it. This sweets are made from fresh kaju which are are of good quality.
In Diwali most of Indian shares the sweets to neighbor and friends. Before long time ladies makes sweets and snacks at home but now a day trend has change. Diwali is festival of light and good food. In Diwali most of Indian shares the sweets to neighbor and friends. Before long time ladies makes sweets and snacks at home but now a day trend has change. You can send it through online portal which has Diwali Sweets gifts. On just one click you can send your Diwali Sweets to your family, friends and relatives.
Save
Save