Diwali means festival of lights, blessings and happiness. It is also the best time to show your love and care through your Diwali gifts to your loved ones. Since Diwali is round the corner, you must have started searching for the best Diwali gifts for your friends and family. I agree that sweets, coffee mugs, jewelry, simple diyas,  clothes, etc are the classic Diwali gifts that one can buy for their loved ones but what if you realize that you have gifted the same box of sweets or clothes to your friend for the second time in a row?  What if your loved ones can easily guess what's inside the gift box without even opening it? So this Diwali, buy a gift which is so unconventional, creative, and unique that they can't even guess. We have created a list of unique Diwali gifts ideas so you can surprise and delight your loved ones with some exclusive Diwali gifts this time. These gift hampers are especially designed and are the hottest Diwali gifts for this year. So with our best Diwali gifts 2020, your hunt for an exclusive Diwali gift for your loved ones will definitely come to an end. Just scroll down to find the best and unique Diwali gifts for your loved ones to make them happy and surprised.
Raffello and Rangoli combo 
Art speaks where words cannot explain and Rangoli is a form of art which is made in almost every house on Diwali to attract the goddess of money – mata laxmi. If you want to convey your good wishes on Diwali to your loved ones then this piece of art would definitely help you in that. All you have to do is to buy this beautiful piece of art- synthetic rangoli from Gift Across India for your loved ones to make them happy and surprised. This is a beautiful ready-made rangoli that would embellish the house of your loved ones. This exclusive Diwali gift hamper includes Raffaello Chocolate, Tea Light Candle Leaf Shaped Rangoli along with Diwali Greeting Card which makes it a perfect combo for Diwali. So don't wait, just grab the deal.
Lantern Diya Hamper with Diwali Card and Imported Mars chocolates
Lights, sweets and happiness are the essence of Diwali and this combo brings all of them, light through a stunning lantern diya, well wishes, blessings and happiness through a cute Diwali card and sweetness through delicious imported Mars chocolates which makes it a perfect  and unique Diwali combo for gifting. So without a doubt just go for this unique Diwali gift and make your loved ones happy.
Diwali door decoration combo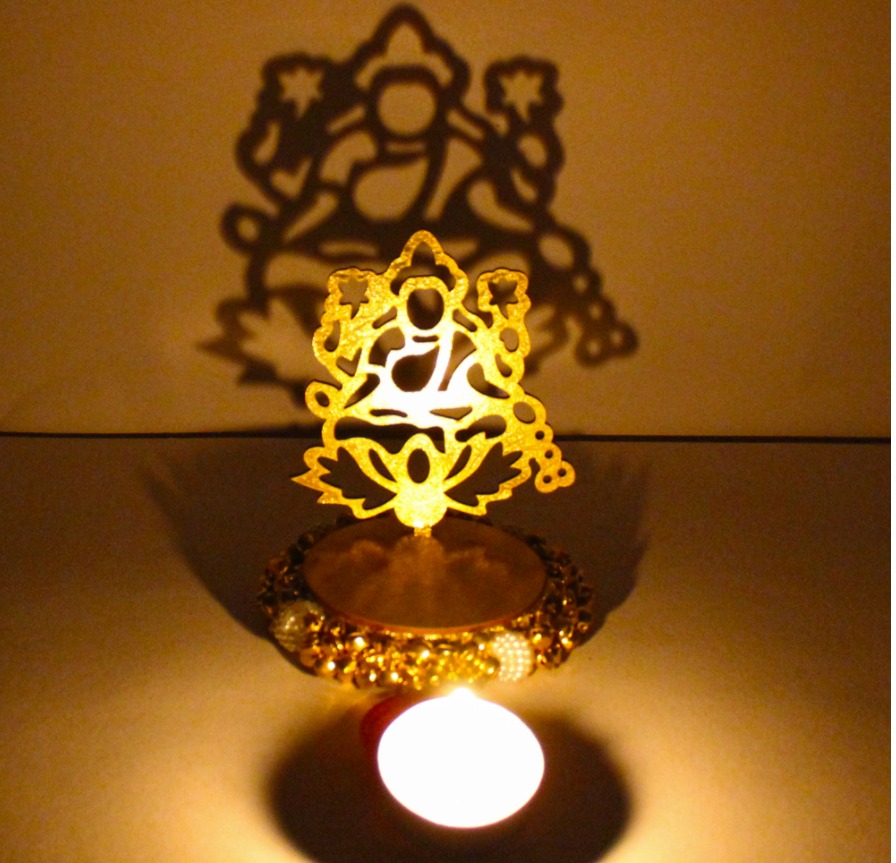 This is a very creative and unique gift hamper for Diwali that you can buy for your loved ones. The combo includes a beautiful and unique acrylic ganesha shadow diya with om shubh labh door hanging and laxmi charan with a pair of swastika. This amazing hamper would surely be loved by your friends and family and they would love to beautify their entrance area with these elegant decor items. So buy this exclusive gift hamper to surprise your loved ones.
Hershey's kisses chocolate with Diwali card
A greeting card with chocolates is simply an amazing Diwali gift that you can buy for your loved ones as this gift hamper will help you to express all your tender feelings, emotions, love, care, and admiration to your loved ones. The best heartfelt wishes plus the sweetness of delicious Hershey's kisses chocolates can melt anyone's heart. So without a doubt, this Diwali, buy the pack of happiness and sweetness for your loved ones.
Best Diwali gift hamper
This is an exclusive and specially designed adorable gift hamper that includes a pack of four ferrero rocher chocolates, two earthen diya and a silver coin which is packed in a very beautiful designer gift box. You can buy this cute gift for your friends, family, relatives, colleagues, coworkers, or clients. This awesome Diwali gift would definitely bring a smile on their faces. So this Diwali, buy this amazing Diwali hamper for near and dear ones and make them happy.
Shubh labh hanging with toffee Diwali hamper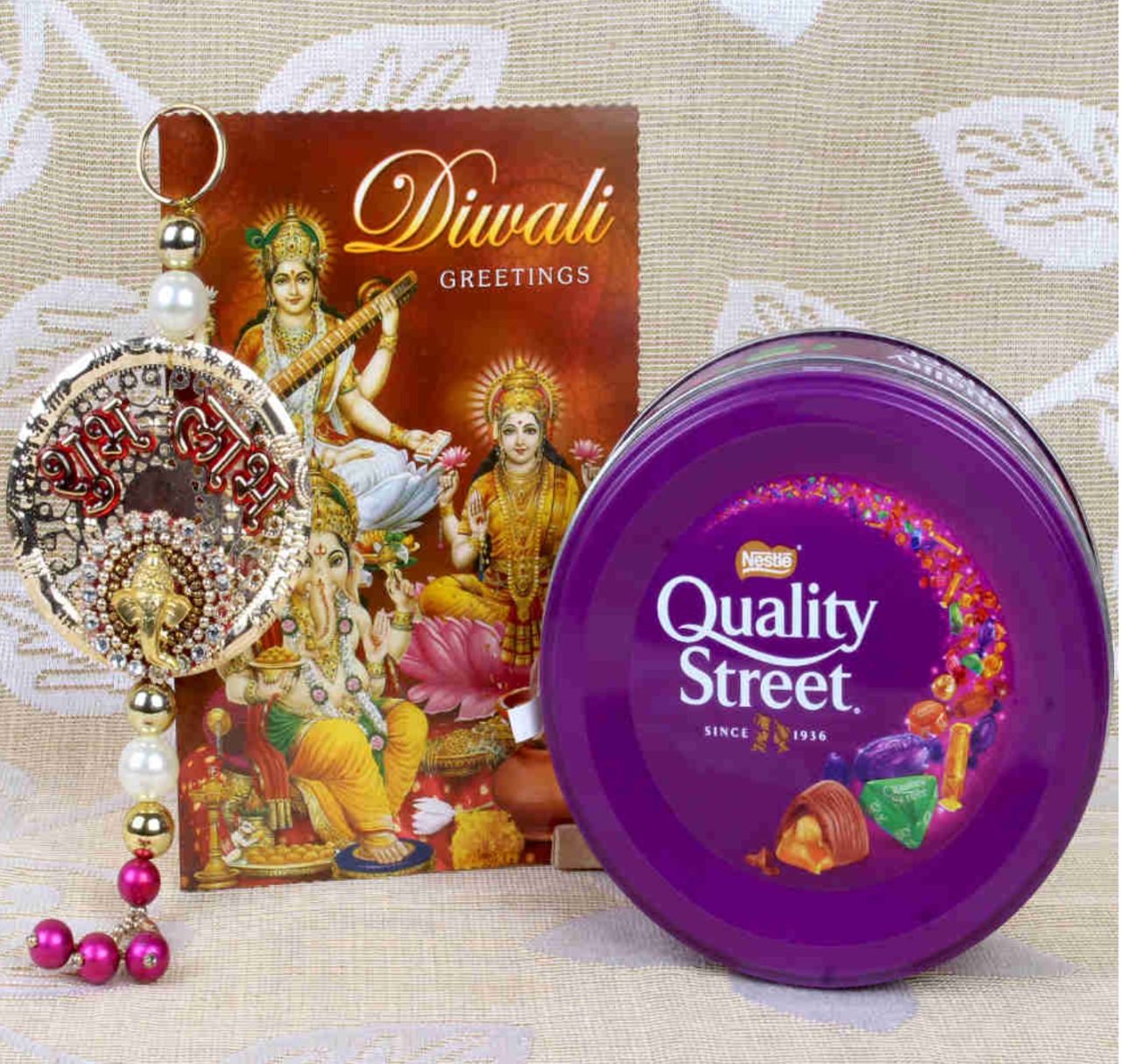 Shubh labh holds very auspicious spiritual significance in our culture. The word  'Subh' means auspicious and 'labh' means gain. So if you give this pious spiritual gift that contains nestle quality street toffees tin box, beautiful Shubh labh hanging and Diwali greeting card to somebody on Diwali, it would represent your love, care and best wishes for them. So this Diwali, show your gratitude and love towards your loved ones with this exclusive and unique gift of best wishes, blessings and prosperity.
Exclusive shadow diya tea light candle holder of removable buddha
Nothing is better than an aesthetically pleasing buddha statue or picture or a candle holder to bring all the peace, positive vibes and prosperity in our house. This exclusive Diwali hamper that includes a shadow diya tea light candle holder of removable buddha is a very beautiful piece of art which will definitely be loved by everyone. So this Diwali, buy this unique and adorable Diwali gift to wish good luck and abundance to your near and dear ones.