With gleam of auspicious Diyas and the holy chants, Diwali is a festival that fills our lives with happiness and prosperity forever ! Everyone has their own sweet collections of the memories from their childhood. Each one of us had their own style of celebrating Diwali, some of us loved cracking crackers while some of us were the little budding environmentalist preaching everyone else to celebrate a 'Green Diwali'! Some were the rebels who believed that if everyone cannot celebrate Diwali equally no one should at all. Some of my friends were Gothic and didn't believe in them at all. But believer or not, everyone definitely waited for Diwali to come for their own personal reasons ! Why ? Because of the amazing Diwali gifts, we used to get from friends and family !
If I talk about my Diwali, it was as bright as it could be, coming from a joint family background meant everything happened king size! Be it decorating the house or baking the Diwali special food and sweets and the best part was the quota for crackers were epic and the brand new traditional clothes for all of us which made us feel nothing less than celebrities ! With 18 kids running under the same roof, I know we enjoyed but that meant trouble for the adults of the house. Getting things done with us bunch of hooligans running everywhere around was a challenge.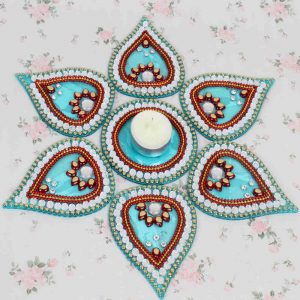 But we also were a great help as well as each of us had our special interest that helped our family in some way or the other. Like I loved when my elder sister made Rangoli, so I sat by her side and observed how she used to come up with a design and how she filled in the colors in each section with utmost precision. She let me do it as well and even if I messed up, she never shouted at me but made me do it properly the next time. She made me realize that even I had a creative bent and should explore it further. One of the most talented females of my life and my inspiration. Anyway, moving ahead, she also allowed me to paint and decorate the diyas and earthen lamps however I wished to decorate it. So in a way, when we were young, we did celebrate green Diwali was used were majorly organic and natural that did not cause any harm to the environment.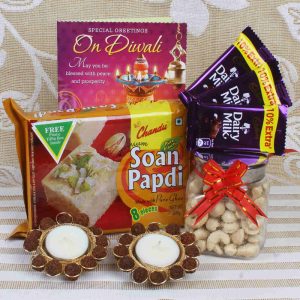 Those wonderful childhood memories will forever be with us but now we have all grown up and have now become so busy with our mundane life that we have forgotten how to enjoy our most favorite festival ever ! So this Diwali, let's brush up our childhood memories and make this Diwali as special as our memories. Let's start by wishing all our friends and family a very Happy and prosperous Diwali by sending them Diwali Gifts Online. Giftacrossindia.com has a whole range of Diwali gifts starting from Diwali gift hampers, Diwali lamps, Unique Diwali gifts, return gifts Diyas, sweets hampers, chocolate bouquets, chocolate hampers, gift sets and many many more to choose from.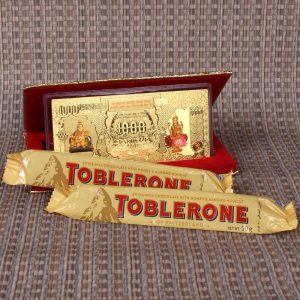 Also, make it special for your friends and colleagues at work by getting them special Diwali corporate gift hampers that will not only brighten up their festival but will also bring a smile on their face. Because that's what festivals are all about right ? Spreading and sharing happiness with everyone.
So that's my Diwali plan…. What about you??
Wishing you & your family a very happy and prosperous Diwali 2018 ! From Team Giftacrossindia.com