Giftacrossindia is here to help you out with its efficient online gifts delivery services. So, light up the faces of your dear ones with the pretty smiles by sending them unique Diwali gifts online.  Giftacrossindia team has come up with especially curetted an exclusive festive gift hamper as per current style, trend and customer requirements. We provide "Hatke Gifts" options with eccentric gift product of Giftacrossindia brand which you cannot get on other Egift stores also in superior in quality. The Range of variety of Diwali Gift hampers, so you can able to choose suitable for all age groups for your friends and family.
Diwali, the celebration of lights is in fact the most anticipated and the most praised celebrations of India. Individuals everywhere of the nation welcome the celebration with enthusiastic gestures. This wonderful festival is the celebration of five days. It is maybe the best time when you can fill the hearts of your friends and family with Joy and excitement. All things considered, you will be enchanted to realize that this year you can satisfy each individual near your heart by gifting them from an extensive variety of favorable Diwali gifts. Sending diwali gift to your dear one nowadays have turned into a mandatory part of the festival. Companions, families and partners share with each other Diwali gift as a signal of showing care, love and affection. Here we have some of the finest auspicious gifts for Diwali, which give you a reasonable thought of what you can purchase as Diwali gifts this year.
Cadbury Silk Chocolate with Diwali Card and Earthen Diya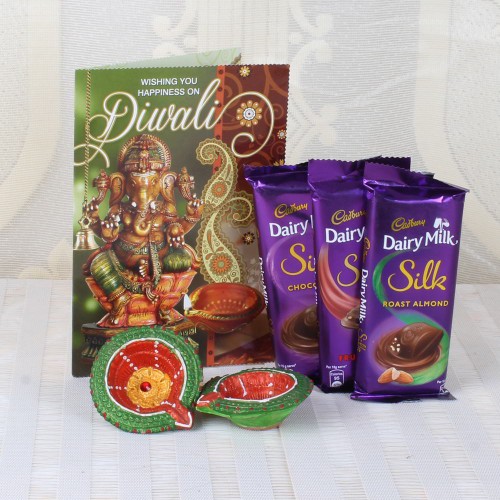 For this Diwali, Cadbury Silk Chocolate with Diwali Card and Earthen Diya boxes are being sold extensively as auspicious gift items for Diwali – this is one of the best items to be gifted to any age group of your family and friends. You can send this gift to your grandmother, mother, father brother, sister or your friends that contains all of the essential items which express your lover on this auspicious day of Diwali celebrations. These boxes Consists: 3 Bars of Cadbury Dairy Milk Silk Chocolate (Weight: 60 gm each), Set of 2 Colorful Earthen Diya along with Diwali Greeting Card.
Diwali Pooja Gift Hamper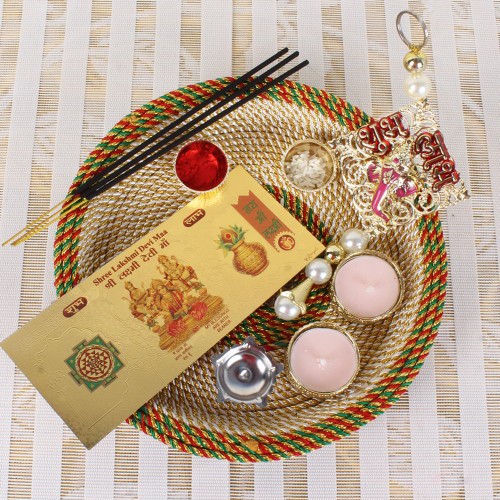 Diwali is a standout amongst the most anticipated and fabulous Hindu celebrations, celebrated in all over India and also in this World as well.  So in this occasion Diwali Puja Gift Hamper can likewise be another one of a kind choice for you as propitious Diwali gifts, which contain Unique Designer Diwali Pooja Thali, Set of 2 Tea Light Candle, Ganesha Shubh Labh Wall Hanging, Incense Sticks along with Shree Lakshmi Gold Plated Note. This Diwali pooja gift hamper can be the best for your grandmother and mother for worshiping of the goddess Lakshmi and Lord Ganesha. You can also send this beautiful gift hamper to your neighbor, friends and colleagues.
Chocolates and Candies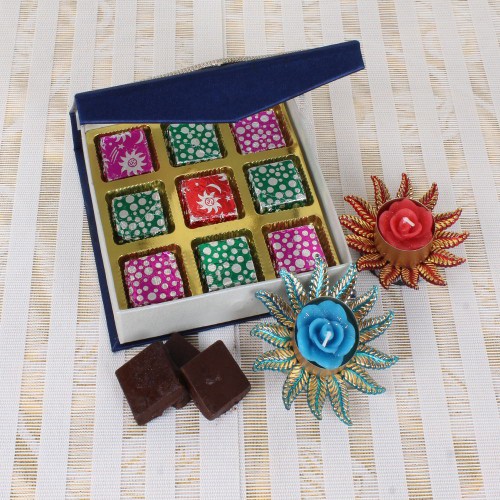 A big pack of chocolates and Diya with a fresh bouquet of rose dependably makes ponders amid any event, Diwali is one such event. Truth be told, Diwali and Bhai Dooj are a portion of the best circumstances in a year when you can blessing chocolates and flowers to your sister, younger brother, friends or cousin.
Dry Fruits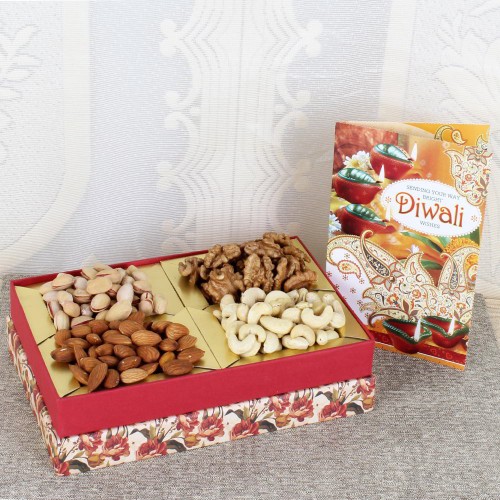 An extensive box of dry fruits has dependably been the most customary yet the most charming gifts choices for Diwali. You can this beautiful dry fruit gift box to every last individual near your heart in your family to all age groups and also you can send to your neighbors, your cousins, your workers – these are perfect for all and everybody.
We have multifariousness categories of designer Diwali gifts like Designer home decor gifts, Exclusive Diwali Chocolate Hampers, Diwali Gourmets Gift Corporate Diwali Gifts includes Pen, Dairies, Table Stands etc, Diwali Dryfruit Hampers, Designer Diya and Candles, Unique Rangoli so many others Diwali Gifts.  We try to make our customer will gift best and awesome gift as per their expectations and feel wow with each and every gift options.  Giftacrossindia.com provides you smooth and secure mode of payment to easy checkout and live chat customer support.